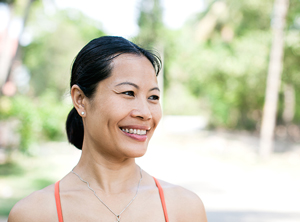 Huong was born in 1973 in Vietnam. As a child, dancing was her passion. She studied economics and has a degree as an event manager. In 2000 she encountered Yoga rather coincidentally. But she soon realized that Yoga is very good for her and therefore made Yoga an inherent part of her life. She then came to realize that she wanted to pass on her positive experiences to others; therefore, she also teaches Yoga since 2003.
In 2007, she moved from Hanoi, Vietnam to Germany, where she is based since then. She has travelled the world in order to practice with many renowned Yoga teachers. However, she was mostly attracted by method of Ashtanga Yoga, so that she gradually shifted her focus more and more on practicing and teaching this ancient method. Huong directs the Kamala Yoga studio in Darmstadt, Germany, since 2010, where she focuses on teaching Ashtanga Yoga. Besides the classes in the studio, Huong also teaches workshops and retreats all over Germany and abroad.
Huong got the first real impression of Ashtanga Yoga when she met Lucia Andrade and practiced next to her in a class with Gibran Gonzales in Germany. Her practice was so beautiful, and it looked really light. Huong then decided to learn more about this beautiful method and deepen her own experience by practicing with Lucia Andrade, Clayton Horton, Petri Räisänen, Peter Sanson and Rolf Naujokat.
Since several years, she travels to the K. Pattabhi Jois Ashtanga Yoga Institute (KPJAYI) in Mysore, India, on a regular basis to study with R. Sharath Jois, the grandson of the late Sri K. Pattabhi Jois, and her main teacher.
In 2016, she had the honor to receive the level 2 authorization from the KPJAYI to teach the full Intermediate (Second) Series. She is one of very few level 2 authorized teachers in Germany.
Huong is dedicated to the practice and to teach the method of Ashtanga Yoga. Her teaching is full of love and inspiration. She has the ability to see the individual characteristics of everyone and helps them to develop their strengths as well as encourages them to go deeper into their practice with dedication and without fear.
---
She holds the following certificates:
E-RYT 500 (Experienced Registered Yoga Teacher on the 500h level according to Yoga Alliance standards)
Besides, she had the honor to assist her teacher Sharath Jois during the whole month of March 2017 and the whole month of June 2018.
Video clips with Huong